OUR PERSPECTIVE: OUR PROLOGUE TO ELECTRIFICATION
OUR PERSPECTIVE: OUR PROLOGUE TO ELECTRIFICATION
Posted on May 2, 2023
We have been leading auto industry efforts to reduce greenhouse gas emissions for nearly 50 years.  Our first Honda Civic was #1 in the very first EPA fuel economy ranking in 1976, and Honda is #1 today, leading all full-line automakers in fuel efficiency and low CO2 emissions.
But let's be clear.  The future direction of environmental requirements is not low CO2 emissions… it is zero CO2 emissions.
So, we embark on a new path toward electrification as part of a comprehensive vision outlined in late April by our new global CEO, Toshihiro Mibe, in which he detailed how Honda will work comprehensively to address challenges in the areas of the environment and safety.
By 2050, we will strive to realize carbon neutrality for all products and corporate activities Honda is involved in, while at the same time strive for zero traffic collision fatalities involving Honda motorcycles and automobiles globally.
Of course, what made the biggest news as part of this announcement was our vision for the complete electrification of our auto lineup… step by step leading to 100% by 2040.  This vision targets major markets, including North America, where for a variety of factors electrification is most feasible.
Certainly, our focus on the complete reduction of CO2 emissions relates to two of the fundamentals behind everything we do at Honda. That means Respect for the Individual, our human-centered approach to business, and our respect for the environment, evidenced by Honda's longstanding commitment to reducing the environmental impact of our products and operations.
Of course, the urgency of our direction toward electrification is based not only on our corporate beliefs and commitment, but the challenges all automakers face in meeting increasing state and federal government regulatory standards.
The Biden Administration has made clear its focus and willingness to invest in EVs, both in infrastructure and incentives to encourage consumers.  And the State of California is talking about requiring 100% EVs by 2035.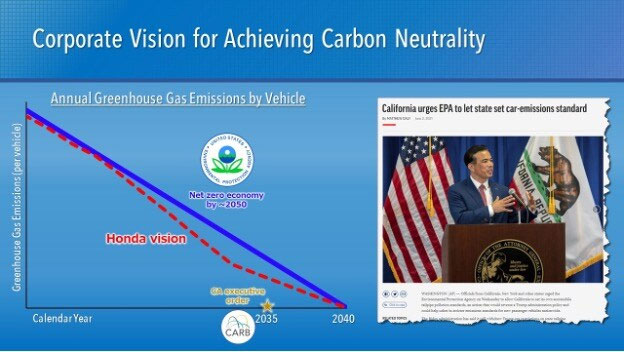 The current administration set a target of a net zero economy by no later than 2050. The blue line reflects the cadence needed, given approximately 10 years of vehicle fleet turn-over, meaning that the majority of ICE vehicles sold in 2039 will be retired or nearing retirement by 2049.
While we haven't been perceived as leaders in recent years, we're not neophytes in the electrified space.  Honda has a long history with electrified vehicles, from the EV Plus, now a quarter century ago to America's first hybrid and the industry's first fuel cell vehicle in the hands of individual customers and, more recently, the Honda Clarity series.
What these products provided us is two important things: an understanding of technology, which we continue to advance and, just as importantly, an understanding of our U.S. customers and dealers… and what it will take to make them comfortable with electrified vehicles.
In the near term, our strategy is focused on introducing a higher percentage of hybrids in our core models. We're making a committed effort to achieve higher volume, by making the hybrid variant the best grade of each model to give it stronger appeal.
We know people who have a good experience with a hybrid are likely to buy a battery-electric vehicle (BEV).  We have grown our sales of electrified vehicles in each of the past three years, with CR-V Hybrid leading the way to our best-ever HEV sales in each of the past three months.
Why invest in hybrid vehicles? We believe it is the best pathway to a zero-emission future.  We have vast experience and expertise in hybrid vehicle technology, which is something not every automaker can claim. In the near term, this will play a critical role in our continuing efforts to reduce CO2 emissions from our product performance.
This experience also puts us in a leadership position in systems integration and management technology that we apply to other powertrains and is key to the battery- and fuel cell electric vehicles of the future.
Hybrid production in the U.S. also enables us to get our production network ready, including familiarization with EV components, including the battery unit and EV system utilized in three hybrid models we build in the U.S., Accord Hybrid, Insight and CR-V Hybrid.
We will be introducing a new series of BEVs coming in this decade. This will include both SUVs for both the Honda and Acura brands and we will share more about the Acura BEV in the future.
Our first volume Honda BEV will be introduced in 2024, signaling the start of our transition to this technology and the name of this first model will signal its role: the Honda Prologue.
While I won't provide a specific sales target for you, I will tell you that we are targeting annual volume roughly between our Passport and Pilot SUVs.  And the Honda Prologue coming in 2024 is just the start.
We have some sense of the unique purchase behaviors of consumers who will be buying their first BEV in 2024, and we have started preparing on the business side in North America for selling full EVs.  Our dealers will be an integral part of the process, so we'll be spending a lot of time with them to clarify roles and responsibilities, all aimed at providing the best experience possible for our customers.
With the Prologue, our goal is to provide a highly competitive product with the functionality to meet the diverse needs of our customers and Honda's role in co-development will ensure this class-leading experience.
We're taking what we believe is a smart approach to the start of volume EV sales, leveraging strategic partners to achieve scale and mitigate initial investment requirements. Here is North America, General Motors is one of our strategic partners.  Our relationship with GM includes:  battery co-development, vehicle co-development, and a joint venture focused on the development and production of fuel cell technology for vehicles and other applications.
In the 2nd half of this decade, our transition to electrification will continue with a series of EVs based on what we call our Honda e:Architecture, with development being led by Honda.
Moreover, to secure the high competitiveness of our EVs of the future, Honda is conducting
independent research on solid-state batteries as the next generation batteries for EVs that will realize high capacity and low cost.
As part of our ongoing effort in this area, we will undertake the verification of production technology using a demonstration line, starting this fiscal year. We will begin accelerating this research with an aim to make solid-state batteries available by the end of the decade.
Together, these development efforts will take us toward Honda's vision for carbon neutrality by 2050, with a plan to increase our sales of battery-electric and fuel cell electric vehicles to 40% of our volume by 2030, 80% by 2035, and to 100% of our vehicle sales by 2040.
In short, our zero-emission focus has begun!
Dave Gardner
Executive Vice President
American Honda Motor Co., Inc.